Leave a Comment

Manufacturers should be aware that products containing dangerous goods like lithium batteries must be shipped within the guidelines of multiple regulations. Individual countries' transportation regulations such as the USDOT, Transport Canada, the International Air Transport Association (IATA), and the International Maritime Dangerous Goods Code (IMDG) all regulate the transport of lithium batteries.
Transporting lithium batteries can be dangerous if not packaged and handled safely because they present both chemical and electrical hazards. The UN Manual of Tests and Criteria, Sixth Revised Edition, SubSection 38.3 was created to ensure safe transportation of batteries. Frequently known as UN 38.3, these recommendations are enforced by all regulatory bodies and must be followed when shipping lithium batteries.
The Hazards of Lithium Batteries
Lithium batteries may pose significant hazards if mishandled or abused. Consequently, safety practices must be followed when packaging and handling lithium batteries for transport. Abusive conditions can cause lithium batteries to catch fire, leak corrosive liquids, or explode in certain situations.
To help explain the various hazards that may occur if batteries are mishandled, Excell Battery has made our Safety Training Course available online for free. 
The Steps to Follow
As outlined in the above regulations, several things must be in place before a business is allowed to ship lithium batteries. These include:
Training
All persons involved in preparing, packaging, and completing paperwork must be formally trained in these procedures before offering batteries for transport. Specific training requirements are outlined in the UN 38.3, but they generally include the following:
General awareness/familiarization training of regulations

Function-specific training on shipping lithium batteries

Lithium battery safety

Security awareness training
Many training organizations and companies offer this type of training either online or in person.
Testing Requirements 
Lithium batteries must be tested safe for transport in accordance with UN 38.3. A variety of tests is performed, from altitude to forced discharge, to ensure the batteries can be transported safely. For more information, review the US DOT/IATA lithium battery testing requirements.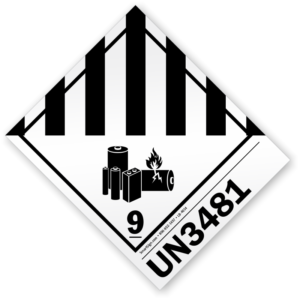 Packaging/Labeling Requirements       
Performance tested shipping containers must be tested in accordance with the above regulations. These boxes must contain the proper UN marking in order to be used for shipping lithium batteries. In addition, labeling of boxes (Class 9, Cargo Aircraft Only if applicable) must be properly applied to the packaging.
Paperwork Requirements
HAZMAT Bill of Ladings, Airway Bills, and other Dangerous Goods paperwork, such as a Shipper's Declaration of Dangerous Goods, must be completed before lithium batteries are offered for transport. Failure to comply can result in costly delays, the shipment being rejected by carriers, or even fines for failure to follow the proper paperwork requirement.
About Excell Battery
Excell Battery has a proven track record of manufacturing safe, reliable battery solutions for over 35 years. When it comes to shipping safety and regulations, it's important to have a professional team partnering with you to ensure the safety of your product. Contact us today and let us help you bring your product to the world!