Leave a Comment
The impact of COVID-19 on businesses in all factions was felt swiftly and significantly, with the ripple effects still disturbing the waters of global markets. In the midst of turmoil and many hardships in the medical equipment space, there have also been stories of triumph. To reach the goal of optimal patient care, it is essential for OEMs to choose a partner that can offer significant experience in the engineering and manufacturing of battery assemblies, specifically designed for medical devices.
In the tradition of many great partnerships, this one started with a problem. How could we meet the increased demand of a pandemic climate? Pushing internal teams is one factor, but gaining the buy-in of external partners often presents a greater challenge. The challenge was to produce batteries at a rate several orders of magnitude higher than previous production rates required by the MOVES® SLC™ integrated, portable life support system. MOVES® SLC™ is a portable life support system that provides the highest level of patient care in extreme and rugged transport and emergency settings. Battery-powered, the MOVES® SLC™ integrates the functions of a ventilator, oxygen concentrator, physiological monitoring, and suction, making it an invaluable tool in the fight against COVID-19 in Canada and around the world. We worked together with Thornhill Medical to optimize the manufacturing process for high volume production and improve both throughput and data capture on battery final assembly testing.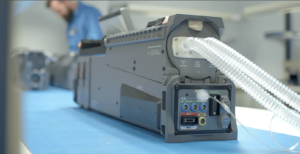 At the outset, both Thornhill and Excell teams emphasized the importance of a clear, detailed, and consistent communication channel between engineering and production. Both teams quickly engaged in a daily cadence to meet deadlines. In rapid and efficient succession, we worked with Thornhill to source components, built and deployed fixtures and designed a new final-assembly testing system to accommodate the increased demand pressures. The data from the new testing system enabled rapid improvement to production throughout. We tapped into our extensive industry network to build a multi-channel automated cycling system in a matter of weeks, instead of months. Our combined expertise resulted in a testing plan that captured all product application needs within our timeframe. 
After partnering with Excell, Thornhill Medical is successfully delivering MOVES® SLC™ life support systems to support the ongoing response to COVID-19. Our team understood not only the timelines but the vital importance of delivering a battery and testing system that supports a complex medical device. As the partnership continues, we look forward to future innovation with Thornhill, always striving to produce the highest quality devices for an ever-changing global medical landscape.